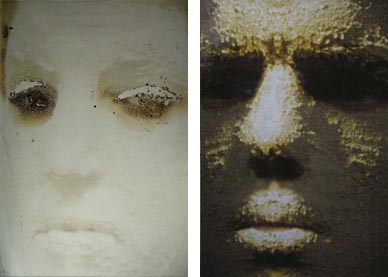 Bio
Anke Land is a dutch visual artist producing drawings and tapestries that are informed by daily news, migration, transience and decay. She developes her digital jacquard woven gobelins at the TextilelLab TextielMuseum Tilburg NL.
She studied Fine Arts at ArTEZ in Arnhem(NL) Land has shown a.o. Grand Palais Paris (F); Museum Gouda (NL); Karlin Studios Prague (CR);
TENT
Rotterdam (NL); Museum
CODA
Art Apeldoorn (NL);Thorasminde Copenhagen (DK); Museum Kurhaus Kleve (D): Plan. D. Düsseldorf (D);
OMNIA VANITAS
selected european artists
WWC
-BF Bergen-Mons (BE); Art Fairs Amsterdam/ Rotterdam (NL); Land is co-founder with Pier Pennings of pARTytent, a traveling art space;Joined international group artists in Residence at Berlin (D); Curator of several exhibitions; Municipal counselor Art in Public Space (GABK), Apeldoorn NL
Land has been featured by
NRC
Handelsblad and several Art Magazins. Publication:"Tapestry as an image".
Tapestries and Drawings The symbol of the skull embodies the work of Anke Land. For her, it is an icon of the preciousness of life; it represents not a memento mori but a memento vivere. By weaving in gold, she instills the skull with light, so it shimmers in the fabric: when you walk past, in one moment you see only the brilliance of gold; in the next you clearly see the skull. Thus it conveys the fragility and the fleeting nature of life.This symbol connects all aspects of her work: brief moments captured in her diary drawings; the transience and decay in her tapestries of forests and trees; the hopeless vulnerability of migrants; the eternity of Charon the ferryman, transporting the dead to the underworld.

In her recent work Anke Land depicts migrants in search of a new existence—a search they often pay for with their lives. The skull, then, also channels the pirate flag, once hoisted as a symbol of power and invincibility, but now a talisman to protect terrified and vulnerable people. The migrant passengers on boats in her woven scenes seem to reach up, rising in gold like the phoenix from the flames
Land works first as a draftsman, drawing with bold speed, yet still a direct and firm hand, in response to media images. She creates diary entries with pen, ink and paint on clear, transparent film and on this volatile material she captures impressions of people and events.But Land has also been searching for a way to make her work more tactile, and found this quality in weaving. In the TextilelLab in Tilburg (Netherlands) her work is rendered into computer data, guiding the loom to weave her tapestries. For Land, weaving in layers is the perfect technique for depicting the meaning of her work in physical terms. Within some parts of the scene the layers are woven tightly together, while in other parts they lie loosely and transparently over each other.In these woven tapestries the scenes become even more timeless, more elusive, more wrapped in history than they do in her drawings. In this way, Land lends a historical resonance to current events: the craftsmanship of weaving connecting the past to the present . Her tapestries are woven with reflective materials so that when they catch the light they glow intensely, in accordance with traditional crafsmanship but with the abstraction of modern imagination.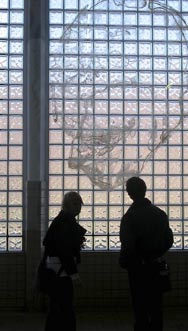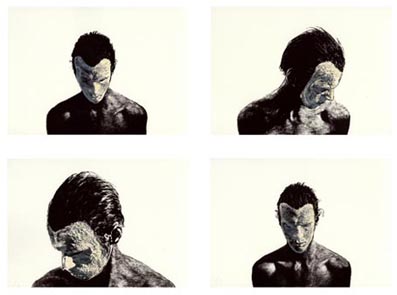 ANKE

LAND

Graduated at ArtEZ, Fine Arts, Arnhem NLExhibitions (selection)
2018
Radboud University Huygensgebouw

SOLO

Nijmegen

NL


pARTYtent Janus Pannonius Muzeum, Pécs,

HU


pARTytent

APT

gallery , London, UK

2017
Salon Der Künstler, Museum Kurhaus Kleve D
Auf zu neuen Ufern, residency, curator Peter Kerschgens and Astrid Karuna Feuser: ArToll Kunstlabor Bedburg-Hau D
Sint- Janskerk, Cartons, Gouda NL
Love, Peace and Light, Kunstraum Dreieich/ArtSpace Frankfurt Mit u.a. Anke Land, Stephan Balkenhol, Sandra Mann, Eric Decastro, Sigmar Polke,Gerhard Richter.


HOE

=HET NU,

ACEC

- Centre for contemporary culture Apeldoorn, Apeldoorn, NL

2016
•

BRAUS

galerie plan.d.Düsseldorf D
artists Pier Pennings, Peter Clouth, Sonja Tintelnot, Andrea Isa, Anke Land.
• Aanwinsten 2011-2016 Museum Gouda

NL


•

DRAAD

art with textile. Artists: Janske Hombergen, Fransje Killaars, Anke Land, Margriet Luyten, Linda Nieuwstad, Zeger Reyers, Chrystl Rijkeboer, Hinke Schreuders, Marije Vermeulen.

ACEC

– centre for contemporary culture Apeldoorn NL.
• Art&Nuyens

VM 23

Arnhem NL
• Apeldoorn Art ,CODA Museum 2016 Apeldoorn NL
• pARTytent reunion

ACEC

- centre for contemporary culture Apeldoorn
• KunstRai –

ARTFAIR

Amsterdam

NL

Galerie Hugo Boogaard.
• Kunstenaars & Textiel, Kunstwest C-Lab expo Amsterdam NL. Femmy Duiven, Ria van Eijk, Barbara Broekman, Jenny Ymker, Pauline Nijenhuis.

2015
• Galerie plan.d. "Ever After" solo with Pier Pennings. Düsseldorf DE
• Galerie Oranjerie

POP UP

Goes " Tactile Textile"
• Kunstverein Bahnhof25 Kleef DE, Das Leben ist eine Kartoffel
• Galerie Oranjerie solo; " Caught in Gold", Goes NL
• Galerie plan.d.Düsseldorf / Art&Nuyens Neueröffnung

VM 23

Arnhem NL
• Omnia Vanitas, European artists

WCC

.BF. Mons BE
• pARTytent Galerie plan.d Düsseldorf

DE

Johan Nieuwenhuize, Brieke Drost/ Ronald de Ceuster, Bert Frings, Pier Pennings, Tamara Dees
• pARTytent Frankfurt- Eltville DE, Ten Words one Shot.
•

FITAX

, PARK Tilburg NL

2014
• Presentation new works bought by Province of Gelderland NL
• Galerie Oranjerie "Queens Garden" solo Amsterdam NL
• Kunstverein Projectraum-Bahnhof25 with Michael Picke, Kleve DE
•

HOE

=HET

NU ACE

Cgebouw Apeldoorn, NL
• pARTytent: Willem3 Vlissingen NL, Quartair The Hague NL, Kunstverein Projectraum-Bahnhof25 Kleve DE, Hinke Schreuders, Ferry Staverman, Pier Pennings, Marisa Rappard, Niels Broszat, Anke Land
• Fitax

W139

Amsterdam NL
• Museum Waterland Tekenkabinet Purmerend NL
• Fitax Art-Rotterdam NL
•

CODE ROOD

De Kleine Kapel solo Arnhem

NL


 
2013
• Tekenkabinet Kunstsalon Assen, NL
•

HOE

=HET

NU ACE

Cgebouw Apeldoorn NL
• Kunst op de Koffie Spijkerkwartier Arnhem NL
• Cascolab Wrapped&Packed Apeldoorn NL
• Museum Waterland Tekenkabinet Purmerend NL
•

FTSSSHT GBK

-MoBa, Arnhem.NL
• Museum of Ferencvaros Budapest

HU

"Going Mayar", Pier Pennings , Elizabeth de Vaal, Desiree de Baar, Alphons ter Avest, Pietertje van Splunter
• Museum Gouda

GENADE

solo NL
• Dijkmagazijn

GBK

Winssen NL with Pier Pennings
• Re: Rotterdam

NL

Artfair
• Kunstenlab Kamerbreed Deventer

NL


• Museum

CODA

Apeldoorn

2012
•

HOE

=HETNU

ACEC

Apeldoorn NL curated by Peter Nijenhuis
• Fitax Mediamatic Fabriek Amsterdam NL
• Wintersale Bosch Arnhem NL
• pARTytent Prague

CR B

.C.Epker, Elizabeth de Vaal, Pier Pennings, V&B ( Alex Jacobs & Ellemieke Schoenmaker), Zeger Reyers
•

ACEC

gebouw "De verbeelding van Apeldoorn " NL
• pARTytent Herceg Novi (Montenegro) B.C. Epker, Elizabeth de Vaal, Pier Pennings, V&B (Alex Jacobs & Ellemieke Schoenmaker), Zeger Reyers
• pARTytent Budapest

HU B

.C. Epker, Elizabeth de Vaal, Pier Pennings, V&B (Alex Jacobs& Ellemieke Schoenmaker), Zeger Reyers
•

FITAX 500

Charlois Rotterdam NL
• Galerie Van den Berge/ Museum Le Secet, Goes
• RE: Rotterdam, Art- Fair NL
• River of Hope Recyclart Brussels BE
• Museum Gouda, "Cartons" Sketches of Beauty ,drawings from 1552, stained- glass windows of the Netherlandish Renaissance

2011
• Museum

CODA

, "Forest Fairytales" Apeldoorn
•

TENT

Rotterdam, Tupajumi
• Wintersale Bosch, Arnhem
• P.ART of our life/ Museum Le Secet "Liefde in de Kunst" Zwolle
• Pécsbagotá Vollpension , Hungary
•

ACEC

gebouw "Samen Solo" Apeldoorn with Edith Meijering
• Kopenhagen Thorasminde "SWAP" Denmark, with Pier Pennings, Marije Vermeulen, Guido Nieuwendijk
• Museum Gouda "Exposed", with Vittorio Roerade, B.C. Epker, Erzsi Pennings, Hieke Luik, Pier Pennings, Zeger Reijers
• Davos, harboursite Deventer, "The Incident Room", curator Patrick Mangnus

 
Publications

• Nieuwe Veluwe:Het menselijk leven, geweven. geknoopt, vervilt, Gabriëlle de Nijs Bik (2016)
• http://www.mistermotley.nl/art-everyday-life/consumeer-de-kunst (2015)
• De Stentor:" Ze maken grote indruk op me", Hemmy van Reenen (2015)
• Commission: Fotoserie voor uitgave : "De Facademaatschappij", over het verschil tussen presentatie en werkelijkheid. Prof dr Gérard van Tillo. www.husserl.nl (2013)
• Liefde in de kunst/p.ART of your life, uitgave Museum Le Secet (2012)
• Weven: "Gegrepen door de mogelijkheden van weven", Selma Sindram (2011)
• Tapestry as an image, the work of Anke Land. Alex de Vries (2010)
• Zwart, uitgave

CBK

Apeldoorn i.s.m. Guido de Vries (2008)
• Labyrint: Rijksmuseum Twenthe, Stichting Traveling Light, Alex de Vries, Pier Pennings (2007)


Collections
• Provincie Gelderland NL
• Museum Gouda NL
• Rijksdienst Beeldende Kunst
• Museum

CODA

, Apeldoorn
• City of Apeldoorn
• Centrum Beeldende Kunst, Groningen
• City of Berlijn DE
KunstArchif Peter Kerschgens D


Curatorship and other activities
• curator-

DRAAD

art with textile artists: Janske Hombergen, Fransje Killaars, Anke Land, Margriet Luyten, Linda Nieuwstad, Zeger Reyers, Chrystl Rijkeboer, Hinke Schreuders, Marije Vermeulen.

ACEC

– centre for contemporary culture Apeldoorn

NL

(2016)
• "Wall of Fame", the collection of Pier Pennings and Anke Land,

CBK

Apeldoorn (2010)
• Founder pARTytent with Pier Pennings (2012)
• Municipal counselor Art in Public Space (GABK), Apeldoorn

NL

(2004- 2010)
Programming artist-initiative Archipel,( with Anne van As) Apeldoorn (1998-2000)
• Programming exhibitionspace "Het kruithuisje" (GABK), Apeldoorn

NL

(2004- 2006)
• Exhibition 'Labyrint", (with Jenny Ymker, design Pier Pennings) Rijksmuseum Twenthe, Enschede (2006)
• Programming exhibitions with Marije Vermeulen,

CBK

Apeldoorn (2008-2009)
• "Black", exhibition and round table discussions,( with Guido de Vries)

CBK

Apeldoorn (2008-2009)
• Member of the programming committee

CBK

Apeldoorn (2008 – 2010)
• Member of the balloting commission G.B.K. (2010- 2016)

*ARCHIVE >>